Prepare to Respond to Complex Emergencies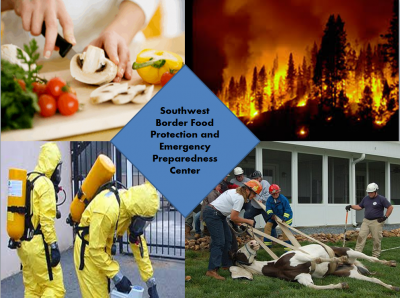 Our Mission
To facilitate agriculture, consumer, and environmental collaboration, engagement and awareness by providing education programs, planning, training, and exercising to ensure the wellness of the whole community in the southwest borderland and beyond.
Our Vision
Increasing industry and consumer protection.
About Us
The Southwest Border Food Protection and Emergency Preparedness Center (SWBFPEPC) was formed in 2005 as the Southwest Border Food Safety and Defense Center. In 2014, we changed our name to reflect the many programs we are involved in. The project is a collaborative effort of New Mexico State University (NMSU) College of Agricultural, Consumer and Environmental Sciences (ACES); Cooperative Extension Service (CES), and the New Mexico Department of Agriculture. The project helps protect the nation's food supply against threats ranging from foodborne illnesses, supply chain disruptions to agroterrorism.
We honor a three prong approach to Food Protection: Food Safety, Food Defense and Food Security.
The SWBFPEPC assesses the security of agriculture operations through our AGROGUARD program and provides training for farmers, dairy and livestock producers, public health officials, law enforcement and the public. We maintain first-response trailers across the state stocked with equipment to help officials respond to an agriculture emergency.
Biosecurity
The Southwest Border Food Protection and Emergency Preparedness Center biosecurity strives to protect New Mexico agriculture's critical infrastructure through planning, training and when necessary assisting in the response to all hazard events. Additional partnerships among other organizations include the National Center for Biomedical Research and Training at Louisiana State University, the Center for Agriculture and Food Safety at the University of Tennessee as well as the United States Attorney's Office, the Federal Bureau of Investigation, Customs and Border Protection and our state and local partners. This biosecurity program is the state Emergency Support Function (ESF) 11 coordinator. For more information visit NMDA and 2018 New Mexico Agriculture Livestock Incident Response Team (ALIRT) training.
National and International Impact
The New Mexico Department of Homeland Security and Emergency Management DHSEM) has designated the SWPFPEPC as the training point of contact for all approved training opportunities dealing with agriculture. We host exercises with partners from across New Mexico in addition to the 10 states along the United States/Mexico border. Some staff, with our partnering universities, have helped develop Department of Homeland Security-certified training courses that are taught nationwide and internationally.
The model for NMSU ACES and CES helps counties develop agriculture preparedness plans. Our S-CAP Project trains county personnel to write an agriculture emergency operations plan annex to their all hazards emergency plan. Another program, the Syndromic Surveillance Project, is quickly becoming the model for animal disease surveillance across the United States. In New Mexico, this is called the ALIRT Program (Agriculture Livestock Incident Response Team).
Statewide Impact
In the majority of New Mexico's 33 counties, agriculture is the #1 economic engine and the SWBFPEPC works diligently to protect this critical infrastructure. We train emergency responders, law enforcement, extension personnel (including agriculture agents, home economists and nutrition educators) and NMDA personnel in agriculture security, food protection and family, business and community preparedness.